How Helms Bros Uses RockED to Build a Habit of Daily Learning
Client - Metropolitan Dealership Group
The Helms Bros, Inc is a franchised car dealership group on Long Island, NY. Besides its Mercedes-Benz flagship store, the dealership also owns Bayside Volkswagen and Volvo of Queens. The group is managed by a team of seasoned General Managers including Suzanne Cochrane (MB), Sean Callahan (Volvo), and Angelo Alexiadis (VW).

Helms Brothers was founded in 1934 by Frank and Charlie Helms. The current owner Douglas Callahan, and his father purchased Helms Bros. from Frank and Charlie in 1977. Despite the ownership change, the Helms Bros' philosophy has remained consistent: treat people with respect and dignity while fulfilling their automotive needs and desires.

Not uncommon for dealerships in busy and competitive NY, the group runs split facilities with separate showrooms and service centers to alleviate space challenges. In addition, to accommodate premium customer expectations Helms' customer-facing staff can visit customers at their homes or offices, and speak multiple languages.
Situation and Challenges:
As a retailer of premium brands, Helms sees investing in their talents is investing in their customers to provide exceptional customer experience. General Manager Suzanne Cochrane and General Sales Manager Jennifer Lang have been looking for a continuous solution to support their team in getting better every day.

Currently, ongoing coaching sessions delivered by Sales Managers are a heavy lift to prepare, execute and follow up. Quarterly online training provided by Original Equipment Manufacturers (OEM) is not taken by staff until shortly before the deadline to get recertified, and yields very little return on learning. Finally, external trainers are expensive and inconsistent with outdated talk tracks provided to all learners without personalization during classroom sessions.

Helms' goal was to reinvent "how we can do better in-house training" and tackle two main challenges:
Provide ongoing L&D opportunities for staff to upskill instead of event- or incident-driven training
Offer actionable advice for higher Return on Learning and to gain adoption from associates to embrace ongoing learning
Solution and Results:
RockED was implemented in January 2022 at all three stores. Over 50 Sales Associates, Product Specialists and Managers downloaded the RockED mobile app (iOS/Android) on their personal devices.

RockED provides true learning-in-the-flow-of-work resulting in high daily utilization of 40% stickiness at the Helms Bros Mercedes-Benz store:

Deploying RockED on phones makes us the ideal digital learning companion for busy Sales Associates and for coaching through their managers.


RockED's 1-2 min micro-learning guides are designed for immediate application and for stealing the time of learners being idle on social media or in-between tasks.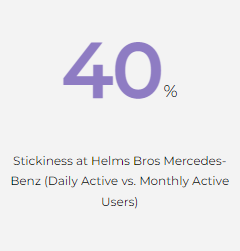 RockED guides highly resonate with users that rated them on average 4.9 out of 5 at Helms Bros Mercedes-Benz with almost 1,000 ratings (5/2022):

Our modern guides are highly relatable as they have been created in the last 12 mo addressing recent challenges like inventory crunch, modern retailing, EV, or data security.





RockED is an Easy button for managers. They like to use our guides to make 1:1 and team sessions more efficient and effective.

Our client is highly engaged and satisfied with the RockED ROI:
RockED Return on Learning: "Sales people month over month will get better at what they do - RockED's training is done by the best of the best people in the industry in a relatable way. ROI will be Increased Sales. B players move to A much quicker, C and Entry Players moving to B much quicker." (Suzanne Cochran, GM Helms Mercedes-Benz)
RockED Content: "I love how varied and concise the topics are. These are the most important factors in the sale and are the items that most sales professionals do not think about!" (Suzanne Cochran, GM Helms Mercedes-Benz)